How does Clarkson Wireless UNLIMITED internet service work?
Clarkson Wireless has a State of the Art Fiber Optic Cable buried from their home office (Stanton Telecom) in Stanton to our tower in Clarkson, which allows us to offer internet service to your area.
How is it wired in my home?
A flat panel receiver will be professionally mounted either on your house or on a pole in your yard. The flat panel receiver must have line-of-sight to our tower. Clarkson Wireless will then run a Cat 6 wire from our flat panel receiver to a router or computer in your home, allowing you to enjoy our high speed UNLIMITED internet service.
---
How can I connect multiple devices to Clarkson Wireless service?
Our router can be used as a Wi-Fi connection, which means you may hook up multiple devices using our router. If you choose to use a router you already have, that is fine, our technician will be happy to set that up for you as well.
Does weather affect my service?
Weather will not cause a degradation of service even in many severe storms, however, heavy rains that are continuous over several hours/days may cause a degradation of service. Wireless Internet access requires a "line‐of‐site" connection from your house to our tower. This means that any large trees, buildings or other obstructions may cause a degraded level of service. Our installers complete a site survey before installation to make sure that there is an excellent signal.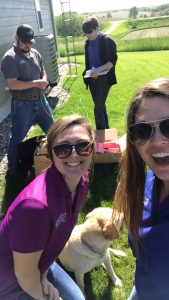 Can I get an on-site survey?
Yes, we are happy to set up a time for a FREE on-site survey.
---
How long will it take to set up my service?
We can typically have service installed within several days of placing an order. Once we've determined that the service will work at your location, it takes about 2‐3 hours to complete the installation.
 What about email addresses?
Clarkson Wireless offers up to 4 email addresses FREE of charge.